✰✰✰✰✰
Based on a true story! A circus theatre company in exceptional circumstances, on a journey that takes them all the way to the sea.
Travelling through Switzerland, Austria, France and Italy – on tour with Cirque de Loin´s production of "The Fool and The Princesses" –it`s the first Swiss feature film to be made following a script written solely by the company´s daily routine and thus life itself. In real time. During seven months. With all its consequences and despite all compromises. Michael Finger´s ("bersten") second full length feature film is a bold and moving experiment. The blending of fiction and reality is taken to an extent where you have no choice but to abandon yourself to the powerful images, music and emotions.
✰✰✰✰✰
Basierend auf wahren Begebenheiten! Eine Zirkus-Theater-Compagnie im Ausnahmezustand auf einer Reise bis ans Meer.
In der Schweiz, in Österreich, Frankreich und Italien – auf der Cirque de Loin-Tournée mit der Produktion The Fool and the Princesses – entstand der erste Schweizer Spielfilm, dessen Drehbuch ausschliesslich der reale Alltag und somit das Leben selbst schrieb. In Echtzeit. Während 7 Monaten. Mit allen Konsequenzen und trotz aller Kompromisse. Der zweite abendfüllende Spielfilm von Michael Finger («bersten») ist ein gewagtes und bewegendes Experiment. Die Vermischung von Fiktion und Realität wird dabei soweit auf die Spitze getrieben, bis einem nichts mehr anderes übrig bleibt als sich dem kraftvollen Meer aus Bildern, Musik und Emotionen hinzugeben.
Cast
Reto Reto Ammann
Mariann Mariann Amstutz
Noah Noah Egli
Michael Michael Finger
Newa Newa Grawit
Océane Océane Pelpel
Bartek Bart Soroczynski
Mother Ayin De Sela
Tara Tara Amstutz
Young Clown Gian Maria Finger
Director Cille Lansade
Choreograph Jean-Benoît Mollet
Painter Pierre Constantin
Monkey Paulo Morais
Mermaid Carole Theodoly
Circus Performer 1 Lluvia De Sela
Circus Performer 2 Kamma Rosenbeck
Circus Performer 3 Magdalena Bahamondes Romero
Arlequina Zora Vipera
Indian Princess Molly Gruey
Old Clown Michael Finger
Circus Director Ueli Hirzel
u.v.a.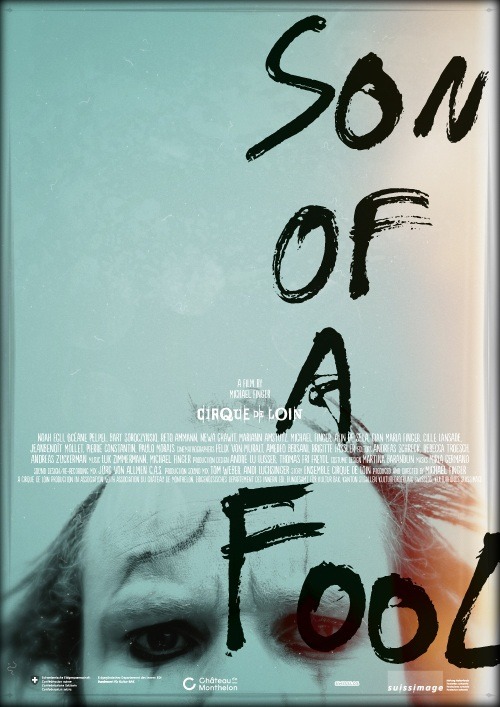 ✰✰✰✰✰
Crew
Cinemathographers Felix von Muralt S.C.S., Amedeo Bersani
Editors Andreas Schreck, Rebecca Troesch
Music Luk Zimmermann, Michael Finger
Production design André Lu Lusser, Thomas Fri Freydl
Costume design Martina Barandun
Sound design / re-recording mix Jürg von Allmen C.A.S.
Production sound mix Tom Weber, Andi Luchsinger
Producer Michael Finger
Story Ensemble Cirque de Loin
Directed by Michael Finger
Script collaboration creative support to director, Felix von Muralt
Second unit cinemathographer Brigitte Fässler
Additional editors Andreas Zuckermann, Rosa Albrecht
Sculpture lotus Jeanne Laurent
Make-up artists Miria Germano, Tanja Maria Koller
Masks Miria Germano
1. Assistant camera Elia Hüsler
2. Assistant camera Gianni Horst
B Camera operator Mannik Keng
Photos Sabrina Christ, Brigitte Fässler
Boom operator Andi Luchsinger
Catering Carole Theodoly, Silvia Stadelmann
Production manager Nina Engel
Assistant production manager Zara Serpi
Production accountant Guido Blum
Post Production
Editing consultant Bernhard Lehner
Colorist Roger Sommer, Patrischa Freuler, Plan B Film
DCP Red Smoke AG, Dominique Gasche, Sandro Barbieri, Rolf Lang
Assistant sound design Martin Stähli
Foley artist Patrick Stork
Sound supervisor Jürg von Allmen C.A.S.
Sound studio Digiton Zürich
Graphic artist Jürgen Wössner
Dialog script Newa Grawit, Noah Egli
Translations/subtitles, Clarissa Hull
Music
Produced by Luk Zimmermann, Michael Finger
Recording & mixing engineer Luk Zimmermann
Assistant engineers Elias Hüsler, Christian Buettiker
Score recording & mixing Influx Studios Bern/Berlin
Accordion Bart Soroczynski, Reto Ammann
Macedonian tambura Reto Ammann
Guitar Reto Ammann, Luk Zimmermann
Bass Reto Ammann, Luk Zimmermann
Drums Luk Zimmermann
Soprano sax, piano, vocals Michael Finger
The production wishes to thank the following for their assistance:
Stephan Märki, Sophie-Thérèse Krempl, Florian Scholz , Hanspeter Renggli, Johanna Schweizer, all the participants of «Les Rencontres de Monthelon 2012», Daniel Ott, Magdalena Finger, Verena Porté, Shana Müller, Christian Müller, Tanja Bär, Markus Zehnder, Urs Frehner, Renée Strecker, Casa Eva Alicudi, Stadt Lichtensteig, Pesche Panero, Urs Peter, Marc und Nicole Schulthess, Marianne Eggenberger, Dave Sieger, Dave Muther, Irene Mueller, Elif Erisik, Tanja Sonderegger, Tom Gerber, Norbert Kottmann, Simon Gutknecht
Michael Finger wishes to thank:
Antoinette Karuna, Ueli Hirzel, Michele Cappelli, Ruedi Santschi , Christov Vorster, Michi Imboden, Stöff Wälder, Alfred Leder, Mathias und Gaby Finger, Reto Finger, Francois Rapeaud, HC Vogel, Chris Niemeyer, Zirkus Chnopf/Cirque de Loin Ensembles 2009/2010/2011, Nadja Breitenstein, Markus Lerch, Ruth Kreis, Lars Klingenberg, Urs Fischer, Sandi Meier, Peter Luchsinger, Sheera Hohlfeld
In association with
L'Association du Château de Monthelon, Eidgenössisches Departement des Innern EDI, Bundesamt für Kultur BAK, Kanton St.Gallen Kulturförderung, SWISSLOS, Kulturfonds Suissimage